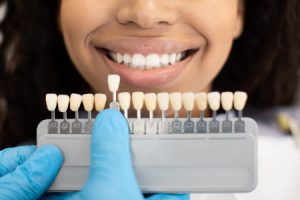 Why Teeth Whitening?
Many people are unhappy with the appearance of their teeth. Often, the chief complaint is related to tooth color. Whether you drink too much coffee, indulge in red wine, or other stain-causing practices, there are many reasons why you might feel the need to lighten the color of your teeth. Perhaps you want to look good for a job interview, a wedding, or any special occasion. No matter the motivation, looking good and feeling good is part of making a great first impression. And while you may be able to make some improvement with better at-home brushing and flossing, it's unlikely that you'll be able to match the dramatic results from a professional teeth whitening. That's why many people opt for this treatment to jumpstart their smile makeover! Don't hesitate to contact our office for a whitening consultation and treatment if this is your goal.
What's Involved?
First, it's important to understand that your mouth needs to be in good health to undergo teeth whitening. Tou must not have any periodontal disease present. So, before addressing any cosmetic concerns, we'll provide an exam and recommendations for any necessary treatment. If it's been a while since your last appointment, we may recommend a deep cleaning to remove any tartar and build-up. Furthermore, we may also discuss possible restorations such as crowns, bridges, implants, etc.
During the cosmetic portion of your consultation, we'll examine the details of your case and discuss what teeth whitening options are available for you and what results you can expect from the proposed regimen. We can also discuss other cosmetic dentistry possibilities such as porcelain veneers, tooth-colored feelings, Etc,
Once all these boxes are checked, we will be more than happy to proceed with your teeth whitening treatment. Again, please don't hesitate to contact our office if you think teeth whitening is right for you!